HISTORY OF "SET KYAR MINN"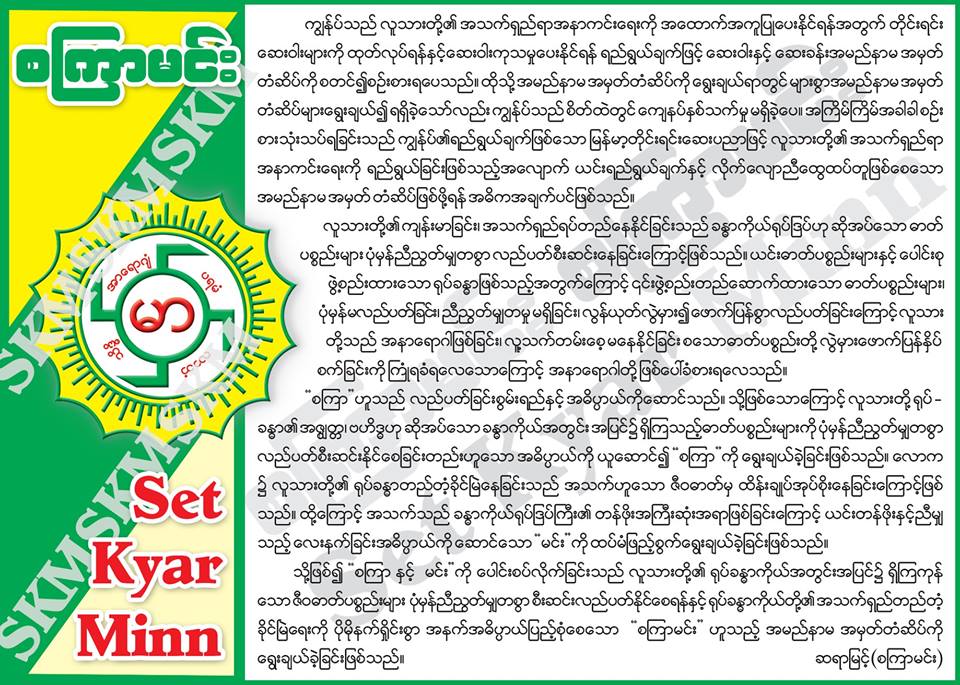 ABOUT US (PROFILE)
FOUNDER OF SET KYAR MINN Pharmaceuticals
              The Pharmaceuticals industry is founded by Dr. Myint Wai, a Traditional Physician, who is deeply intended for widely distribution of Myanmar Traditional medicine all over the world.
BIOGRAPHY
         U Myint Wai is Managing director of Set KyarMinn Pharmaceuticals Industry who has over 23 years of experience in Traditional medicine field .He is son of U ThaungPe and Daw Than. He was born on 4th December 1967, in Da Hat Jan Village ,Taung Thar Township, Mandalay Division.
TRADITIONAL EDUCATION BACKGROUND
            Saya Myint, had learned about Myanmar Traditional Medicine from my grandfather U Lan and U Boe Ye Phoesince 14 years old. Then, continued on learning the Traditional Medicines from Teacher U Mya Win and U MyintMaung. At 1986, passed Teacher U ZaWa Na's Four subjects in Myanmar Traditional Medicine Exam at Myanmar Traditional Medicine Institute. Again, at 1992, learned the Myanmar Traditional Medicine at Medical Teacher Institute and in 1993, passed Government Examination of Myanmar Traditional Medicine and got the certificate of Myanmar Traditional Medicine Specialist. At 2009, got the Doctor of Oriental Learning in Ayurvedic Medicine (Ph.D) from Indian Institute of Oriental Heritage.
FOUNDER'S MESSAGE
            My intention is distributing health knowledges to public as I can. So, I have written so many books about the Myanmar Traditional Medicines and how to live to get a healthy life.I hope Set KyarMinn medicinal products and my books will aid you as home remedy in your life-style.
Sincerely,
Saya Myint (SET KYAR MINN)
Managing Director, Set KyarMinn Pharmaceuticals
Set KyarMinn Pharmaceuticals Industry
Company Background
                In Myanmar, "Set Kyar"means Flow with rhythmicity, "Minn" means Life
               The founder of Set KyarMinn, Dr.SayaMyint, gives the company name as "Set KyarMinn"; which is defined assystematically and rhythmically working systems of human organs and circulation to take out high quality throughout the life time.
               Set KyarMinn Pharmaceuticals is a Traditional Medicine Manufacturing Industry which has been established since 1994. Manufacturing of Traditional Medicine was started in 2003 as family business. In 2013, it has been generated into industry with major 6 departments including HR and Admin Department, Planning Department, Production Department, Quality Assurance Department, Quality Control Departments and Research & Development.
WHAT WE DO
          In our industry, we manufacture the Effective traditional medicines not only for treatment but also supplements for human health. It has been awarded ISO 9001:2015 certificate (Quality Management System) by Bureau veritas (Thailand) in 2016.
OUR VISION
         " To save the lives by the effective treatment of Myanmar Traditional medicine".
OUR MISSION
            " To manufacture the Myanmar Traditional Medicines with high Quality, Efficacy and Safety according to International Standards and distribute the effective traditional medicines to our customers with true value".
Set Kyar Minn Traditional Clinic
            "Set Kyar Minn Traditional Clinic" is located at No.666, Thu Dhama Road, North Okkalapa Townshop, Yangon.
             The founder of Set Kyar Minn ,Dr.Saya Myint, has started the treatment to patients by effective Myanmar Traditional Medicines at his own clinic since 4th July 1994 to till now. He cure the patients to relieve their diseases by not only combination of Treatment and Supplement herbal medicines but also discussing on their life style. His special treatment is Anti-ankylosing spondylitis Ointment, Tablets and Fomentaion. The clinic becomes popular among the patients due to his Ankylosing Spondylitis treatment.
'Life-Care Herbalist' , Beauty And Traditional Medicine Journal
        Set Kyar Min Owner, Sayar Myint had been writing the medicinal literatures for people, sending the medicinal manuscripts to journals and publishing his own verbatims while he was busy all the time due to the writing hobby he can't give up. But he can't be satisfied only with it,he has planned to publish the 'Life-Care Herbalist' journal hopping for people to be aware of the knowledges of medicines. The 'Life-Care Herbalist', beauty and traditional medicine Journal could be published and distributed in 6 July,2017 (Thursday) for the first time after preparing for nearly a year. Besides the tasks of curing the patients and producing the traditional medicines, other social duties and obligations as well as the multiple work duties are always keeping him busy and he is forced to find free times for his hobby in the literature industry. Thus why, he had to use his own Set Kyar Min traditional medicines production compound also as his journal's headquarter. 'Life-Care Herbalist', beauty and traditional medicine Journal issues are publishing in every Thursday since 6 july, 2017.